In attendance: Robert Trudeau, Kathryn Brandl, Elizabeth Roselli, Brian Salvatore, Ryan Tew, Maurice Loridans, Feico Kempff, Susan Keith, Ian Webb, Cynthia Keith, Steph Pedro.
SELF-GUIDED BICYCLE TOURS
Ian talked about the maps he's been developing of self-guided tours to take via bicycle. Adding to those tours has been our theme of the month. Loren has been in communication with Centenary archivist and local music historian Chris Brown about making a musical tour, and the group is set to have a second annual holiday lights tour this year on the d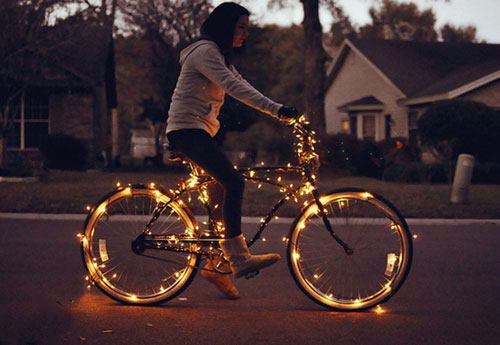 ay after Christmas.
(Although the idea is to see the lights via bicycle, not so much decorate one's bike, who knows what folks might chose to do? Some of us won't soon forget how Maurice Loridans decorated his helmet for mardi gras cyclovia!)
The group first discussed the future of such tours. Robert has suggested a podcast that would be done while you ride, or walk. Loren mentioned the interactive musical soundtrack that's been created as an app to use for walks in Central Park, as
described in the New
York Times
recently. The app uses the walker's GPS activates different audio sounds. Ian mentioned the possibilities of musical and historical tours.
Regardless of future possibilities, though, the current format Ian is using is a .pdf file that people can print out as a map and take with them. Ian doesn't want to post all the tours until he has a good amount of them. He's found a site for storing all the pdf's. Robert talked about his favorite ride down Texas Avenue and seeing the old Blue Goose site, so that could be integrated into a tour. Ian said he'll be able to rank them by which rides are most often downloaded. Ian said people can send links from google maps or whatever and his team can put them into .pdf form.
The group then discussed various routes for the Christmas light ride. After considering various areas to bike through, as South Highlands, but group settled on Broadmoor, like last year, partly because of the easily hill-less riding it provides, as well as a fairly spectacular set of lights we can go by which Susan Keith mentioned.
The group spent most of the rest of the meeting deciding on the route and drawing it on google maps. Stay tuned to this blog for details of when the ride will start. But it will likely start and end at the Johnny's Pizza parking lot, and after the tour people can eat pizza there at Johnny's, if they like.
MISCELLANEOUS
Loren announced that the IRS has formally approved our filing as a non-profit 501(c)3 organization. We will scan and post the letter and put in our google docs for our reference
Loren also noted the success of the last two meetings. The last one was a social gathering over drinks at the Lake Street Dance Hall downtown, and the other was an advocacy meeting where we did such things as writing letters to city officials, enter survey data, and draw maps. (Loren apologized for not posting summaries; he explained the deadlines of a publisher for a manuscript and Centenary's Registrar for grading finals conspired against it.)
Steph announced that 90% of our radio shows at KSCL have been saved on their server. They will be made available as podcasts by a Centenary student volunteering at the radio station starting January 10th. It was mentioned that the easiest way to access them would be as MP3's; it was noted that one of us could make those transformations ourselves.
Maurice met a person who lives near the Coates Bluff trail on the Bossier Parrish side. He is a retired architect, and it was noted that perhaps he might be able to help us design the pier.
Robert reported that he's learned a photography teacher at Magnet, Terrance Flores, has taken students on the trail; another example of students using the trail as part of their education.
Steph asked if we're still on board with our improvements for capacity building. The group decided we will make strategic planning our theme for January.
The group discussed connecting with other communities. Rotating meeting locations may not be as effective as making a video showing what we do. A student leison could go to different communities and show the video and talk to people about how to do what we or how to connect with us. Steph mentioned she could shape up what one gets out of ABS and make a flier.
Feico noted U.L.Coleman's development near Coates Bluff.
Brian noted the city losing two professional sports teams, the Mudbugs and the Pilots; he said it seems they're leaving because of the lack of educated, upper-income people here, and that improving our education and income levels should be among our primary metrics for what constitutes a better city.
Robert noted that Craig Durrett mentioned that bike paths should be incorporated into the widening of 3132. The group was glad about that. It was noted that as editor of the editorial page of the Shreveport Times, Craig is an important contributor to the public discourse about what would improve the city.
The next meeting on December 19th will center on the theme of tours for the city, trying to create more, but the one after that on the 26th will be on bicycle, in the form of the Christmas light bicycle tour! Stay tuned to the blog for details!