In attendance this week were Kathrine Brandl, Chris Chandler, Amanda Currier, Loren Demerath, Lani Duke, Susan Keith, Cynthia Keith, Feico Kempff, Maurice Loridans, and Cathy Smith
The agenda for the meeting on Monday night was to gather and organize themes for upcoming meetings and to proioritize goals the group would like to set in place. The group members proposed and voted to delegate the first meeting of every month as a time to invite Dara Sanders of the Metropolitan Plannning Comm
1 of 5 targets for ABS this year: Civic Engagement

ission to attend and to discuss citywide issues. Loren agreed to email and extend the standing invitation to her.
Feico started a
Top 5 List of Goals
(to accomplish in the next 12 months) on Facebook, but it didn't get off the ground as of Monday night's meeting.
In order to prioritize these goals with regard to the needs of the community, there has to be organization. By planning the next few themed meetings to narrow the focus, and inviting those members of the community directly related to the topic being discussed, then we can better structure and focus the attention of the group to accomplish more goals. The key, though will be to reunite everyone with a follow-up meeting to report back on the progress that has been made.
Chris Chandler brought in the 2013 Community Counts guide from the Northwest Louisiana Community Foundation. Inside the guide are 25 specific indicators on which we're measured and compared to other cities, and these indicators and other information can be found on the Community Foundation's website.
Chris began reading off topics that could help narrow the focus for the group. Some of those included: poverty, government
Another target: a network of trails and paths

dependence, juvenile justice, community wellness, healthcare, philanthropy & volunteerism, employment & work care, education & sciences, and quality of life.
The group chose to discuss the quality of life section focusing on air quality, cost of living, crime, commuting, and civic involvement.
The group also spoke about Smart Growth, mentioning such things as bike tours, special rates going through Shreveport, walks, etc. Chris stated that the key is getting Shreveport on someone's bike tour map. Once the city is on the map, then it will be easier to attain and implement the fundamentals necessary for the community. Maurice also made mention of the "Warm Showers"program that is known for providing those on bike tours a hot shower and even a bite to eat or a place to sleep.
ABS can help articulate what people want for their community. If the voters know about smart growth, and know what goes along with it, then they'll be more apt to get involved.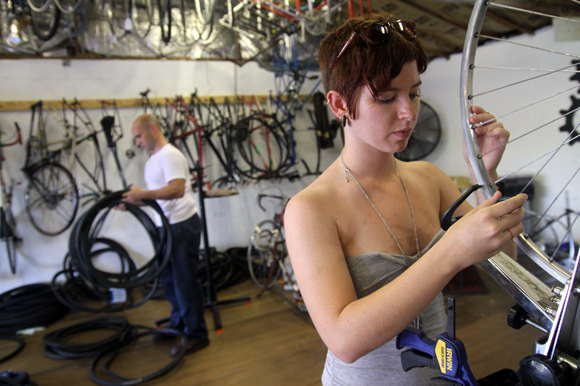 Another: bicycle help, such as maps and a cooperative
Cathy stated that there is a dire need for Momentum. If something is already going on, then we are more likely to gain community involvement and get donations to get started. Narrow the focus, by achieving a small but notable goal, where people have a visual that something is already being done.
To start the ball rolling, the calendar has been set into motion to begin this new process. Beginning Monday, October 7, 2013, the group will begin the themed meetings. The first of the month civic involvment meetings with Dara will begin on November 4. The second meeting of the month will be related to bicycles and so on. Below is the upcoming calendar for the next six weeks:
The cycle will repeat monthly, though we may flip the timing and lead with civic engagment after this month.
The bicycle themed meetings will try to develop momentum on topics such as signs and sharrows, starting a used bike depot and cooperative, and making map of recommended bike routes. People with a willingness to share ideas, give feedback, share contacts, etc., on any of those topics are encouraged to attend the meeting next week.
Last but not least: community health
The Civic Involvement meeting, the following week, may feature the interim Caddo Parish School Superintendent, Delano Ford. The importance of professional development for teachers may be one issue raised, as well as the ways people can generally help affect change in the school system.
One idea for future meetings on Civic Engagement is that of replaying the city council meetings on a community station, or even posted to a YouTube channel to gain more support and involvement.
Paths and Trails meetings will be based on the premise that we need a network of them, in order to offer a means of alternate transportation that is more eco-friendly and better for community health. (Loren since mentioned the meeting on October 21st to Times reporter, Michelle Marcotte. Look for her story on pedestrian safety--or the lack thereof--in Sunday's paper!)
Finally the Community Health meeting will concentrate on walking, biking, nutrition, fresh food, trails, a year-round Farmer's Market, group walks and tours, providing a safe environment for a healthy active outdoor life. We will also be inviting Angie White, head of slow foods and current President of the Alumni Association at Centenary College.
Meeting summary drafted by Amanda Currier, Centenary Service-Learning Student. Thanks Amanda!
The cycle of themed meetings will start this Monday, the 7th, talking about ways of facilitating a better bicycling environment for transportation. Join us!